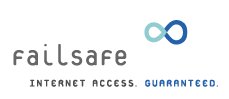 Privacy Policy
Failsafe ("Failsafe" or "we") is committed to protecting the privacy of the personally-identifiable information that we collect from you as you use this Web site (the "Site"). The scope of Failsafe's commitment is detailed in this Privacy Policy. By submitting information, you agree to Failsafe's use of such information as described herein.
Failsafe collects personally-identifiable information ("Personal Info") on certain areas of the Site when users request information or a response. The personally-identifiable information collected may include, without limitation e-mail addresses, names, postal/zipcode and, phone numbers.
Failsafe uses your Personal Info to fulfill your requests for information, to process your requests, or determine service availability in your area. We may keep any of your Personal Info on file and use it to contact you regarding these matters.
Failsafe will not intentionally disclose (and will take commercially reasonable steps to prevent the accidental disclosure of) your Personal Info to third parties (i.e., persons or entities that are not affiliates of Failsafe), whether for such third parties' marketing purposes or otherwise.