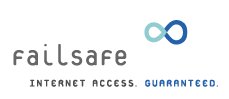 No one budgets for downtime, but the costs are huge.
A single Internet connection is a major vulnerability for organizations from financial services, sales, technology, creative and e-comm to doctors, lawyers and teachers. Downtime can mean devastating losses in revenue and credibility and some connectivity issues can take days or weeks to resolve. In a recent survey, 61% of companies cited problems with their ISPs as the primary cause of downtime*. Average downtime cost per hour for a company-wide outage is $100,000 and industry estimates indicate that Internet businesses lose an average of $18,000 per hour**. Did we mention our affordability and guarantee?
*In USD. Source: Infonetics Research **In USD. Source: Oracle Corporation
You don't need an IT department to get the service you deserve.
Failsafe takes care of everything from a needs assessment to budgeting and installation. We design the right mix of connections, order them, configure everything and send you the equipment. And if there's a problem with one of your connections, we work directly with your ISP to get it fixed. If you have an IT department, they'll love this. If you don't, you'll feel like you do.
Only a guarantee brings peace of mind.
Your ISP doesn't come with a guarantee, but we do. We guarantee 2 unique services – Basic and Premium. With Basic, if there's a failure any month that lasts more than 1 hour, you'll be credited back your Failsafe fee+. With Premium, if you lose connectivity for more than 1 hour in any given month, you'll be credited back the entire cost of your Failsafe solution, including all connection fees+.
+ Power problems, acts of God, and other similar acts are clearly outside of Failsafe's control and therefore will not trigger this guarantee.