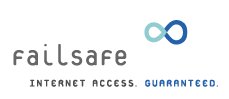 If you accept the inevitable, you can plan for it.
ISPs fail. It's a reality. And they always seem to fail in the middle of a mission critical undertaking, causing loss of productivity and credibility. Failsafe can change that reality – quickly, seamlessly and affordably.
Think of us as an Insurance Policy.
No one intends to rely on an insurance policy, but they're very glad to have one should the worst happen. Failsafe mitigates your risk so effectively that you'll never even see how we helped. All you'll know is that you can go back to relying on the Internet for vital business services.
You can get affordable stability just by planning.
Many companies or professionals who rely on Internet connectivity for mission critical activities believe that by upgrading to expensive T1 or Fibre connections they'll get the guarantee they so desperately need. Not true. While certainly more reliable than most connection types, T1 and Fibre lines do fail. Without a fallback, you're out of luck and out of pocket. Failsafe can literally take the place of these high-end connections once and for all – and at a fraction of the cost.