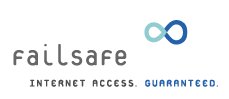 HERE ARE JUST A FEW MEMORABLE FIRST ENCOUNTERS WEíVE HAD WITH CLIENTS WHO LEARNED A LITTLE TOO LATE THAT THEY NEED US - AND REALIZED FAILSAFE IS ONLY THERE AFTER ITíS BEEN SET UP. WHILE WE COULDNíT HELP THEM IMMEDIATELY, WEíRE HAPPY TO BE PROTECTING THEM TODAY. THESE STORIES ARE TRUE BUT THE NAMES HAVE BEEN CHANGED TO PROTECT THE EMBARRASSED...
The receptionist of a prominent law firm called us to say:
ďI need your help, quickly. We were changing our ISP, and it looks like there was a screw up. Now the senior partner is yelling at everyone around the office, our technical guy quit and none of our clients can send us email. We have cases weíre working on, actual trials are happening right now, and we canít send email to anyone. Iím being told theyíre working on it, but it might take as much as 48 hours to get this even looked at by someone. I need you to get us online immediately. I think theyíll pay anything to get this done now. Please, youíve got to help us.Ē
The IT Manager of a large, publicly traded pharmaceutical company called:
"We have a dedicated 100M fibre connection that they ran specifically for us at our head office. They said it was the most reliable we could get. We only use about 10% of it at the most, but itís been rock solid for years. But it went down about 3 hours ago. I see three trucks working on stuff outside, but they donít know when it will be repaired. We have 350 employees here and nothing is getting done. We canít do anything and my boss is pissed. Can you talk to someone and maybe make the fibre people get it done quicker?"
An initially calm businessman called us thinking he could solve his problem by ordering Failsafe after his connection had already gone down:
"We do large format printing for architect firms and construction companies. We get files from our customers by email or on our FTP site and then use them to print their blueprints. Weíve never had a problem with our Internet connection before, but itís down now and I donít know when itíll be back up. Iím using most of my staff and some couriers to drive around and collect the files around the city, but my customers are just going to start using someone else because I canít keep up. This is going to cost me thousands of dollars today, and at least two of these clients. Iím glad youíre there. I need your service now. How long until you can get me back up?"