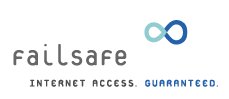 WARNING: IF YOU ARE NOT A CERTIFIED GEEK, PLEASE RETURN TO THE PEACE OF MIND SECTION. FAILSAFE IS NOT RESPONSIBLE FOR BRAIN OVERLOAD SHOULD YOU CHOOSE TO CONTINUE.
When they ask, they really mean ...
Your company's connection goes down. There's screaming, panic, mayhem. All you can do is nod and smile. Then comes "When will we be back up?" If you knew, you probably wouldn't be down. "Why" usually follows. "Well, we think the DSLAM LC at the CO reloaded a new ATM config and now it won't authenticate with any neighbours in its Area 1. We're going to try to reseat it against the backplane or change out the LC. Then if that doesn't work…" They stop listening at DSLAM. "Why can't you just get us online???"
We're all about making you look good.
Now imagine you had 2 connections that were completely different. If you had ADSL, we'd try to arrange for SDSL, cable, wireless, or even satellite to back it up. Then we'd look for 2 or 3 or more connections that have the least amount in common by asking questions like:
• Do they rely on the same bundle of wires going into your premises?
• Do they rely on the same internal hardware for routing or termination?
• Do the actual wires or antennae take different routes or share a pole?
• Are they both delivered by or rely on the same company's stability?
• What sort of historic uptime, and quality, do the connections have?
• Do they both rely on the same power supply?
• Do they both share the same building at their originating point?
• Are they both susceptible to the same technical exploits?
Then we'd custom design a special no-cost device that used less than 10 Watts of power, had no moving parts, and produced little or no heat. We'd also deliver a static IP address or a block that would never go away, even if the underlying connections were both dynamic and failed regularly. We'd use specific routing protocols and add our years of kludging to finally deliver the protection you need. And if that weren't enough, we could bond the 2 connections and take advantage of all the potential bandwidth you've got. That's Failsafe. That's guaranteed reliability. How you lookin' now?
And that's just the tip of the tech iceberg.
We also provide monitoring including:
• status of the available connections
• latency of the available connections
• failure stats of the available connections
• traffic volume and rate usage
And we can do your:
• VPNs • Port Forwarding and Blocking • Packet prioritization • QoS • DOS Defences • Out of band • BGP • VLANs • Hosting • Backups • Filtering
Speak to our Geeks
If you're interested in more information or tech specs, email us or give us a call at (416) 548-8410 to talk to one of our geeks. Be sure to check out pricing and service packages and take a look at our Peace of Mind section for hard data on the cost of downtime to help sell us in. Because let's face it; the non-geeks always wait until it's too late.