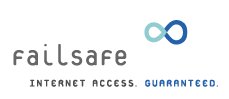 ANY COMPANY THAT RELIES ON THE INTERNET KNOWS THE RISK OF GETTING CAUGHT WITH THEIR ISP DOWN. FROM THE STAGGERING COST OF DOWNTIME, LOSS OF COMMUNICATION AND CREDIBILITY, TO INTERRUPTION OF MISSION CRITICAL PROCESSES AND MISSED DEADLINES, IT'S A SITUATION NO ORGANIZATION CAN AFFORD. NOW IMAGINE A SERVICE THAT COULD GUARANTEE AFFORDABLE, INDEPENDENT, 24/7 INTERNET CONNECTIVITY. INTRODUCING FAILSAFE. INTERNET ACCESS. GUARANTEED.
You will never be down again.
Failsafe takes your ISP, adds one or more redundant Internet connections and puts them together to create a single worry-free connection. These connections create technical redundancy. When Failsafe discovers a connectivity problem, we just switch you over to a line that works then we contact your ISP to fix the problem. You won't even know we were there.

Call us at: 416 548-8410 to learn more about how we can help your organization.
Failsafe is not an ISP
It's so much more. Failsafe is an affordable independent service that works over (and despite) your ISP. Failsafe guarantees you have Internet connectivity 24/7 – regardless of your provider or technology.
Wondering if you really need Failsafe?
First ask yourself how much your day-to-day productivity relies on your connectivity. Now imagine no down time. Ever. No waiting for your ISP to get back online and your employees to get back to work. No missed deadlines, communication breakdown, website or intranet inaccessibility, embarrassing outages or email delays. The best part – failsafe is affordable. Still need to ask?